MacAllister offers the most advanced, dependable, trouble-free  seeding system on the market today.  White planters are available in a variety of configurations including the new tracked 36 row 30 inch planter.   If you need a precise, accurate drill system, look no further than the sunflower drills available from MacAllister.
White Planters
MacAllister Machinery has partnered with the leader in row-crop technology, White Planters. With over seventy models and sizes ranging from 4 to 36 rows, White Planters is guaranteed to have the perfect planter for your seeding and tillage needs. White Planters ensures accuracy and consistency with its innovative seed metering system and single mobile part.
Learn more at the White Planters website
Sunflower Drills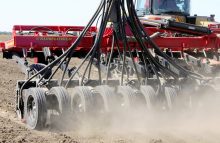 If your cropping system includes wheat or small grains, hay or pasture revitalization, Sunflower has the seeding solution for you. With a wide variety of sizes and configurations, there is a rugged, accurate, dependable Sunflower drill for your operation.