Welcome to
MacAllister Machinery -
Agriculture Division
The Agriculture Division of MacAllister Machinery sells, rents, leases, and services high-quality farm equipment from Challenger, LEXION, Gleaner, and other manufacturers.
Parts, Sales & Service: 866.862.2228
24HR Ag Field Service: 877.855.7368
The AGCO Story
Click to learn about AGCO's transition from a company that grew through acquisitions to creating organic growth through R&D and manufacturing.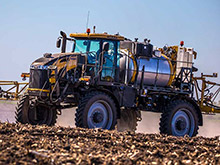 The New RoGator C Series
Click to learn about the new RoGator C Series — built to reduce crop damage, be more precise with product, and more productive every day.