MacAllister machinery is proud to offer one of the world's leaders in tillage equipment, Sunflower tools.  With primary and secondary tillage and a variety of conservation tillage tools MacAllister and Sunflower have the tillage tools you need.
Sunflower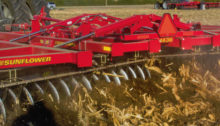 Indiana offers a wide range of soil types and conditions and Hoosier farmers can tackle those challenges with the tillage tools from Sunflower.  MacAllister Machinery offers a wide variety of Sunflower equipment, including the new vertical tillage system, the Sunflower 6630. Specifically designed to create an ideal field surface, Sunflower tillage tools increase soil sunlight absorption, allow planting up to ten days earlier, and have several maintenance-free components. Other Sunflower products available include: drills, field cultivators, chisels, primary tillage tools, and soil conditioners. MacAllister Machinery and Sunflower provide the solutions to all your tillage equipment needs.
Learn more at the Sunflower website
Unverferth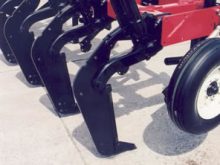 Everyone thinks of our tracked tractors when considering how to battle compaction. Now we can also help you win the battle of compaction with the Unverferth line of Rippers and subsoilers. With a variety of sizes and configurations, pull type, 3pt or utilizing a caddie, there is a solution to fit your farm's needs.