From a 20 hp Massey Ferguson utility tractor to a 673 horse Challenger MT867 tracked tractor, MacAllister has a broad variety of fuel efficient powerhouses ready to meet your needs.
Challenger Tractors
Challenger offers tracked tractors to help you achieve maximum outputs with minimum production costs per acre. Available in a variety of sizes, power ratings, and features, MacAllister Machinery is sure to have the perfect tractor for your farming operation. With some of the most technologically advanced tractors available today, your farming needs are met and your expectations are exceeded when you chose Challenger brand tractors coupled with MacAllister Machinery's superior customer service.
Learn more at the Challenger website
Challenger MT700 Series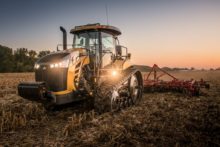 Challenger MT700 Series tractors feature an all new closed center, load-sensing hydraulic system and a unique load independent flow division system. Ranging from the 380 HP MT738 to the larger 431 HP MT743, there are three different models specifically designed to meet all your farming needs. Each model includes unmatched space, comfort, and visibility in an all new cab, including the Tractor Management Center (TMC), which monitors and controls vital tractor functions. Ease of use and power are maximized in the Challenger MT700 Series tractors.
Challenger MT800 Series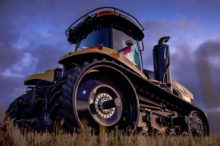 With four models ranging from 511 HP to 673 HP, there is a Challenger MT800 Series tractor perfect for all your farming needs. These machines combine unmatched tractor power with innovative track technology, providing improved flotation and traction while reducing compaction. Each MT800 Series tractor provides improved fuel economy and engine response with their hydraulic electric unit injectors (HEUI), which automatically sense load changes and alter the fuel delivered to the engine. MacAllister Machinery is proud to offer this line of equipment with unmatched power and performance.
Massey Ferguson
MacAllister Machinery is proud to offer the full line of Massey Ferguson tractors. Massey Ferguson and MacAllister Machinery provide the equipment needed to simplify tasks.