From a 20 hp Massey Ferguson utility tractor to a 585 horse Challenger 975 four-wheel-drive tractor, MacAllister has a broad variety of fuel efficient powerhouses featuring the high horsepower Row Crop  MT600 tractors and MT700 and MT800 track machines that we're so well known for.
Contact us or call us at (317) 591-9100 for more information.
Challenger Tractors
Challenger offers a variety of wheeled and tracked tractors to help you achieve maximum outputs with minimum production costs per acre. Available in a variety of sizes, horsepowers, and features, MacAllister Machinery is sure to have the perfect tractor for your farming operation. From the versatile MT400 to the powerful MT900, your farming needs are met and your expectations are exceeded when you chose Challenger brand tractors coupled with MacAllister Machinery's superior customer service.
Learn more at the Challenger website
Challenger CH1000 Series

Challenger MT400 Series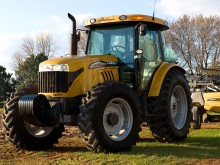 Challenger MT400 Series tractors have the versatility to make them the ideal tractor for any farming operation. Each machine is customizable to your needs, giving the operator the option of an open platform or a closed cab and the choice of open-center or closed-center hydraulics system. In addition to their adaptability, MT400 Series tractors also boast numerous easy-service features including a one-piece hood that lifts at the front for effortless access to the air filter, cooling system, and key service points. Other features include: the relocation of the battery to beneath the right side cab steps for easier access and the ease of monitoring hydraulic and transmission levels from the rear of the tractor. Challenger brand dependability and quality are optimized in the Challenger MT400 Series tractors.
Challenger MT500 Series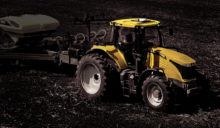 Challenger MT500 Series tractors are powerful and versatile enough to meet even the most difficult farming tasks. The Tier III Cat® AGCO Power™ engine regulates and optimizes injection pressure to match various operating conditions and loads, while the rugged frame makes this series tough enough to handle even the roughest terrains. Challenger MT500 Series tractors are available in eight distinct models with corresponding horsepower, making it the ideal machine for any diverse farming operation.
Challenger MT600 Series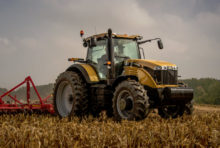 The Challenger MT600 Series provides exceptional fuel economy without compromising strength or performance. The Techstar continuously variable transmission (CVT) controls both the engine speed and the ground speed for maximum economy. While the new AGCO Sisu Power 8.4CTA engine utilizes the revolutionary e3 selective catalytic reduction (SCR) technology resulting in optimal performance and air quality control. The rugged frame and solid foundation of the MT600 Series tractors provide the power and strength needed to enhance your farming operation.
Challenger MT700 Series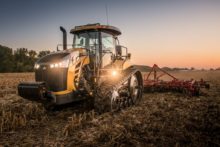 Challenger MT700 Series tractors feature an all new closed center, load-sensing hydraulic system and a unique load independent flow division system. Ranging from the 235 HP MT735 to the larger 306 HP MT765, there are four different models specifically designed to meet all your farming needs. Each model includes unmatched space, comfort, and visibility in an all new cab, including the Tractor Management Center (TMC), which monitors and controls vital tractor functions. Ease of use and power are maximized in the Challenger MT700 Series tractors.
Challenger MT800 Series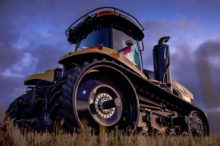 With four models ranging from 340 HP to 500 HP, there is a Challenger MT800 Series tractor perfect for all your farming needs. These machines combine unmatched tractor power with innovative track technology, providing improved flotation and traction while reducing compaction. Each MT800 Series tractor provides improved fuel economy and engine response with their hydraulic electric unit injectors (HEUI), which automatically sense load changes and alter the fuel delivered to the engine. MacAllister Machinery is proud to offer this line of equipment with unmatched power and performance.
Challenger MT900 Series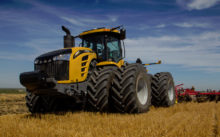 Challenger MT900 Series tractors are leading the industry with their heavy frame, large-diameter axles, unrivaled comfort, and power. The Tier III Cat® C15 and ACERT® technology engines excel in power when compared to other tractors in its class, while the Power Management system coordinates the engine speed with the transmission gear to meet the operator's needs when field conditions vary. Fuel efficiency is maximized by the Constant Ground Speed feature, which automatically controls shifts and engine speed. MacAllister Machinery is proud to offer this equipment with unmatched power and performance to meet all your farming needs.
Massey Ferguson
MacAllister Machinery is proud to offer Massey Ferguson mid range 4700-5700-6700 Series. Massey Ferguson and MacAllister Machinery provide the equipment needed to simplify tasks.
Call us toll-free for more information: (866) 862-2228