Indiana farmers face a variety of harvesting conditions and challenges.  MacAllister machinery has the machine to fit the needs of any farmer.  From the lightweight, nimble Gleaner, and the simple and efficient Challenger to the LEXION tracked and wheel combines, we have you covered.  Whether you are harvesting 500 or 20,000 acres, MacAllister has the machine to give you the successful harvest you are looking for.
Challenger Combines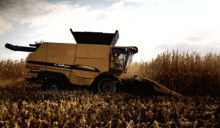 MacAllister Machinery is proud to offer Challenger combines. With their maximum capacity and efficiency, Challenger brand equipment is available in three distinct processing designs with corresponding horsepower and class size.  From the 300 horsepower Class VI 660B Combine to the 350 horsepower Class VII 670B Combine, both equipped with an Endurance 8.4CTA engine, to the 425 horsepower Class VIII 680B Combine complete with a Cat® C13 engine, MacAllister Machinery and Challenger provide the perfect equipment for all your harvesting and combine needs.
Learn more at the Challenger website or build and quote a machine
Gleaner Combines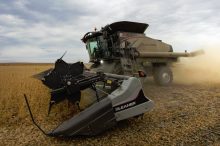 For over eight decades, Gleaner combines have been known for their unique design and performance. The Natural Flow™ transverse rotor keeps crops moving directly from the header to the rotor then to the rear of the machine while the unique "Direct Flow" two-auger design allows the machine to perform with reduced horsepower and fuel requirements. Coupled with the equipments' two-stage, four-strand gathering chain system, which creates a smooth and higher flow of material, Gleaner combines and MacAllister Machinery offer equipment with unmatched performance.
Learn more at the Gleaner website or build and quote a machine
LEXION Combines
LEXION combines are equipped with the patented Accelerated Pre-Separation (APS) threshing system and the Roto Plus separation system to provide the most productive threshing and separation system available. MacAllister Machinery is excited to offer this one of a kind duo, offering exclusive harvesting advantages including: greater adaptability to changing crops and conditions, independent threshing and separation speed adjustments, and optimum throughput.